Many years ago my roommate and I stumbled onto the Environmental Working Group's Skin Deep® Cosmetics Database (ewg.org/skindeep) while shopping online for less toxic everyday health and skincare products.
We started looking up scores or specific ingredients in our shampoo, facial moisturizers, sunscreen, contact solution, and all the other cosmetic and cleaning products. We were amazed by how toxic many of our beauty products were even if they mentioned words like "Natural," "Paraben Free," "SLS free," etc. To our surprise, it didn't matter if it was a department store brand (i.e. Clinique, Estee Lauder, M.A.C Cosmetics) or a brand that sounded more natural (i.e. Eucerin, Yes to Carrots, BareMinerals, Burt's Bees, Aveeno) or even if the product was advertised as safe to use for babies. Many of them still contained questionable chemicals, preservatives, synthetic fragrances that may be allergenic, immunitoxic, or affect the reproductive system.
This gave me the idea to make my own skin care products, and after many trials and experiments I created something very promising. My husband found that daily application of our homemade body butter provided great relief from skin irritation caused by psoriasis. Then our friend who was pregnant at the time found that the body butter moisturized her growing belly and dry skin much better than regular lotions. Plus, she felt safe using our body butter while being pregnant. Our male friends started replacing their hair products with our hair cream as they found it to be non-toxic and easy to use since they could it rub it on their skin and sleep with it instead of having to wash it off their hands and hair. I quickly discovered more friends and family benefited from our homemade skincare creations.
Grace's Homemade continues to grow out of love and support from my family and friends who encourage me to live a healthy lifestyle and promote health and well-being to our community through my homemade skincare.
What are your SKIN and BODY eating?
You may eat healthy, but does your skin and hair eat healthy too?
Look up your most frequently used health or beauty products to see how they score in the EWG Cosmetics Database (or other resources at your disposal). If your product is not listed, try looking up the individual ingredients (i.e. fragrance, phenoxyethanol, parabens, sulfates) and see how they fare.
A Message from Grace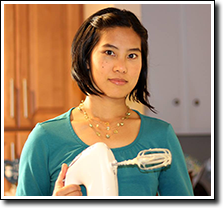 Hello and Thank You for visiting GracesHomemade.com! I am excited to share my safe and affordable homemade products with you. Everything we sell here is made at home with love and care and the best ingredients I could find.
I have been working with children with special needs for many years. A portion of the profits from Grace's Homemade goes towards toys and supplies needed by the children (with diagnoses like Autism, Down's Syndrome, Cerebral Palsy, Sensory Integration Disorders, Feeding Disorders, and others).
Please "Like, Follow, and Share" us on Facebook for periodic healthy living tips, updates, and specials.
Thank you for your interest in Grace's Homemade!